This month's rider interview comes from Tim Stainthorpe, Director, Eclipse Group. Tim led the team from Eclipse Group, consisting of Tony Godson, Matt Randall, Dave Dutson, Neil Loake and Rob Terry, in our Derby Arena challenge earlier this year. Here's how Tim felt about taking on Cyclone24 following the challenge.
How did you first find out about Cyclone24?
The presentation at the Derby Arena Corporate day
Why did the challenge appeal to you?
It sounded like a good way of getting a team of Eclipse colleagues into cycling, a couple of us had tried track before and were looking for another team event to take part in and a 24 hour challenge seemed hard enough, and far enough away at the time to consider!
How did you prepare for the challenge?
Personally, I'm a 4 days a week recreational cyclist so didn't do anything specific apart from a stage 2+ session to remind my legs they can't freewheel.
The others did some indoor cycling on Zwift and some track stage 1&2 sessions at Derby.
To be honest we didn't do enough and underestimated the physical and mental toll !
What are your stand out memories from taking part?
Standout memories are the first and last stints. First stint was go hard or go home! Adrenalin was high and common sense wasn't top of the list and I hadn't warmed up properly… consequently the legs were sore for the next few stints until pain became just a concept and tiredness took over.
Also the final few laps when everyone who had done their stint was cheering the last few riders on, especially when the bell rang to signal the last laps. It was quite an emotional moment realising what we'd all achieved.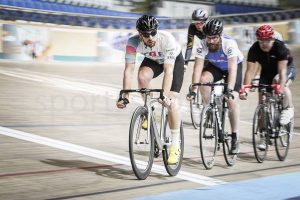 What was it like coming into the final few hours? What were your emotions?
We were all very tired, counting down our stints until it was one stint left, one final push. We'd had to change our sleep strategy as one of our team became ill early on and so were getting slower and slower! I'd saved some energy to have one big final 25 minute stint and to try and get the fastest lap out of our team, which had suddenly become a 'thing' in the middle of the night.
So feelings around the team were of relief, exhaustion but accomplishment.
What would your advice be for someone thinking about doing the challenge for the first time?
Get plenty of sleep in advance, have a strategy for changeovers, take plenty of food and comfy seating, invite friends and family to cheer you on – it really helps.
What three words best sum up the cyclone24 experience for you?
Tough, Exciting, rewarding.
The Eclipse Group team completed 3265 laps, over 500 miles with a their fastest lap being 18.98 seconds. Pretty good going we say. And we're rather hopeful to see them again in 2019.
How many laps could you achieve with next to nothing sleep? Want to find out? Our next Derby Arena challenge takes place over the 9th & 10th of February 2019, you can find more information and register here