Friday 23rd March saw Wales turn Red to show support for the Welsh athletes competing at the Commonwealth Games in Australia next month.
Businesses, schools and cycling clubs all got involved with the Sport Wales campaign and with the first of our Corporate Cycle Networks taking place on that day, it seemed appropriate for us to show our support as proud Welshies and so we asked all those joining us to wear something red.
Our first outing of 2018 was sponsored by Stills Branding and cyclists from businesses across the city joined Cyclone24 Directors Zoe Westerman and Steve Sulley for an early morning ride around the Vale of Glamorgan, followed by breakfast at Kin & Ilk on our return.
https://twitter.com/sport_wales/status/977125787869569024
Zoe commented "Our corporate rides are a great opportunity to meet fellow cyclists whilst providing business networking opportunities. Not only does it enable you to get a bit of breathing space from the office, but cycling has a positive affect on emotional health, improves wellbeing, and is a health-enhancing way to network."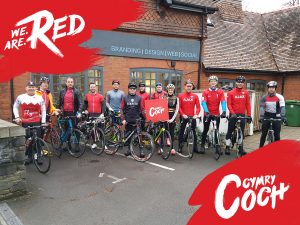 Cyclone24 Corporate Cycle Network takes place once a month, from March to September, with rides typically covering 20-25 miles and a longer ride planned for July.
The next Cyclone24 Corporate Ride is taking place on 27th April and is sponsored by Faithful & Gould. If you are interested to attend or sponsor one of our cycles please contact Zoe by emailing [email protected]