Here at Cyclone24, we very much like to encourage all those who brave the boards to undertake some fundraising and over the past four years we've seen some fantastic amounts raised for both local and national charities.
This year, however, we've seen an awe-inspiring amount raised by one company at our first 24 hour challenge of the year. Richard Bailey, Senior Construction Manager at St. Modwen was the man responsible for signing 23 fellow colleagues up for the challenge, which saw them really go the extra mile and to raise an outstanding sum for their charity of choice, LandAid.
LandAid is the property industry charity working to end youth homelessness in the UK. Bringing together businesses and individuals from across the industry to support charities delivering life-changing projects for young people who are or have been homeless, or who are at risk of homelessness, they provide much-needed homes for young people.
The four St. Modwen teams took part in our 24 hour challenge at Derby Arena in February, and between the four teams completed 13,145 velodrome laps, an outstanding 3,286.25km. That's the equivalent of cycling Lands End to Johns O'Groats twice and be a third of the way on the third leg too!
And in doing this, they raised more than £23,000 for their chosen charity. A truly incredible team effort!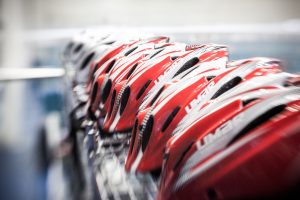 Richard Bailey, Senior Construction Manager at St. Modwen, said "We all completed what was explained to me as an event that makes a marathon look easy! The lack of sleep, fatigue, pain and mental torture were challenges themselves, but then to ride a bike round a velodrome with all of that going on is something else. I am really proud – we all took part with smiles on our faces; there was a real sense of comradery which was made even more purposeful by doing it in aid of Landaid; knowing we why we were putting ourselves through the challenge made it all worthwhile".
A huge congratulations to all the riders who took part as part of the St. Modwen teams.